The chat box is the central element of the discussion panel. It consists of all the exchanged messages between you and the online shopper as well as some helpful features (Sending an offer, opening the website the online shopper is browsing on, or forwarding the conversation).
1/ The structure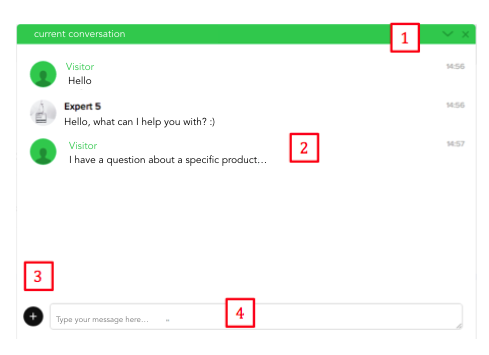 (1) With the icons 

 you can minimise or close the chat box. You may want to minimise the box to fully see the page the customer is currently browsing on.
(2) The main part of the chat box displays the history of your conversation with the online shopper (called "visitor")
Additionally, it also displays the message the visitor is currently typing so that you can prepare your answer or search a link before the message is sent.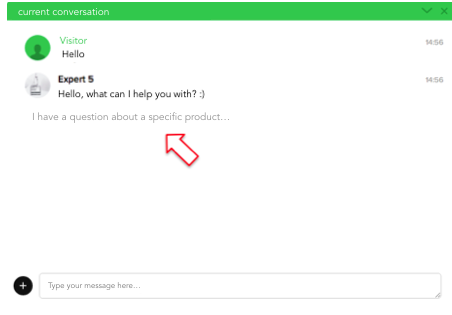 This function allows you to preview the visitor's questions and buys you time to prepare a profound answer. 
(3) The icon 

 opens the menu of actions that could help you with the conversations. Each possibility will be explained in detail below:
(4) Type you message in the text field at the bottom of the box and press enter to send it. Other than you, the vistior is not able to see what you are typing. 
2/ The menu of actions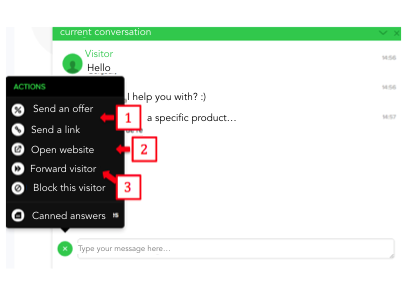 (1) You can send an offer to the visitor. An offer includes a commercial message, a photo and a link that appears in the visitors chat box. 
(2) Clicking on this option leads you directly to the website the visitor you are chatting with is currently browsing on. The website is opened in a new tab and allows you to see the full page since some parts may not fit into the background picture of the chat.
Attention : if you open the website in a new tab you will no longer see the details of the customer you are chatting with. For example products that have been placed in his basket disappear on your version of the website. 
(3) You don't know the answer to a question? Don't worry, you can transfer the message to a professional employee of the customer service by clicking on "Forward this visitor".
Note : This possibility is only available if an employee is online