If you have participated in a product launch as an ibbü expert, you may know that it is a very busy time and can be overwhelming. As an agent we want to make sure you have all the right tools to set you up for success! Follow these 5
'must
do's' to be a top expert on launch day.
1. Use AAO
Using AAO is the perfect tool to help customers and you when closing a deal via the chat! Using Agent Assisted Ordering has been proven to increase sales for our experts. A expert that is using the tool can have an average conversion rate of 52.2% compared to 16.3% from an expert that does not use the AAO tool. Those conversion rates can earn you up to $400 or more in revenue per conversation compared to experts that opt out of using it. All of the earnings and conversion rate increases will ultimately help your CSAT percentage rise...who doesn't love that!
Here you can see the impact when experts on the right utilize the AAO tool while handling chats compared to experts on the left that opt out of using the tool.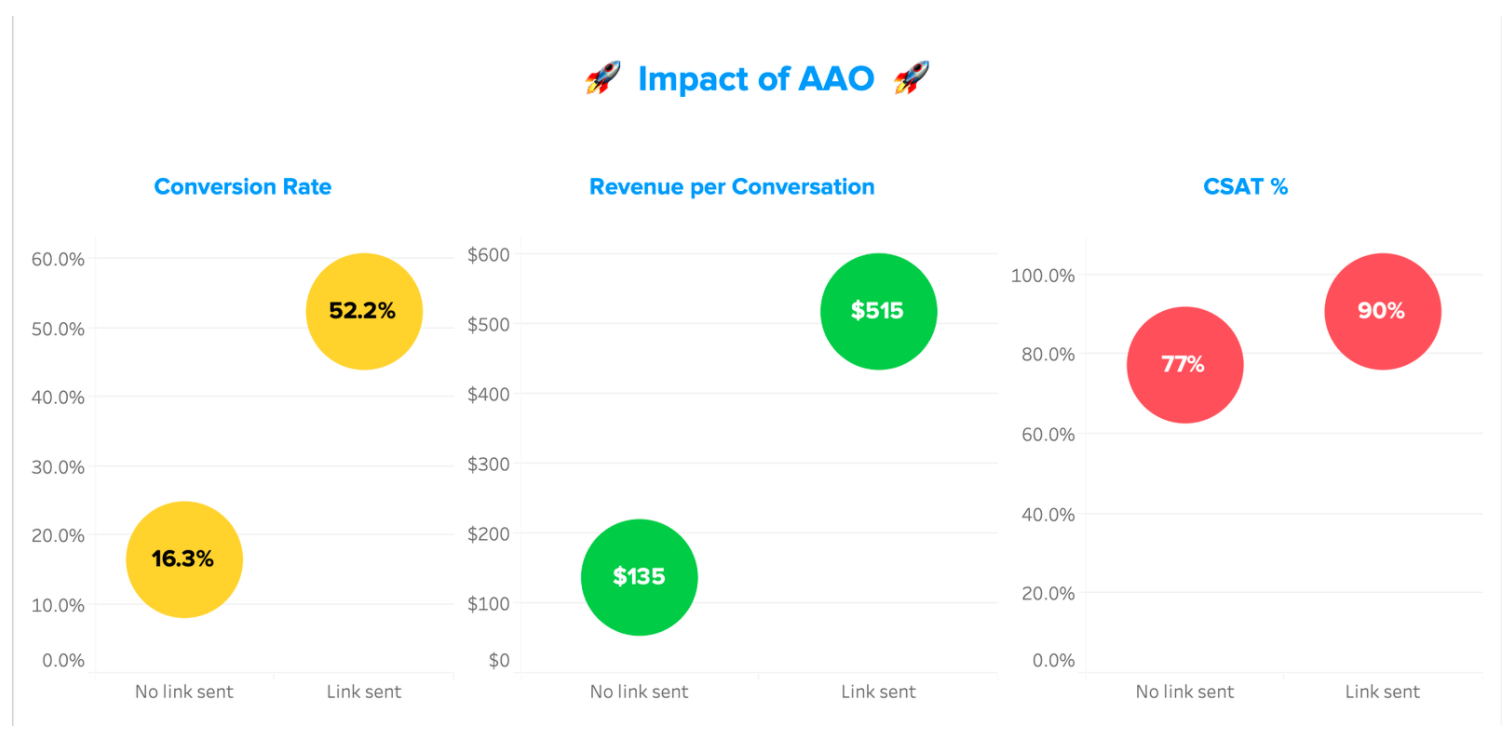 1.1 Survival Kit for AAO
Use
CS Workbench
to help customers with new orders by building a cart for them and sending the cart link via e-mail.
(
Important*
You must create a Samsung account using ibbü email address to be able to access CS Workbench
)
Access
CS Workbench
by logging into your Samsung Account using your expert email and password. Once logged in you will be directed to
'
Agent
Assisted Order tool
', hit
'
Continue
as guest
' then select
'
Continue
'.
You will be directed to the Samsung sight where you will be shopping on behalf of the customer!
From there the customer will have decided on the product they want to purchase. You will then click
'
Buy
Now
' and make sure to configure the product for them
(i.e.,
choose carrier model, size of TV, choose any add-ons, etcetera). Then, head to
'
checkout
'!
Almost done...Once at
'checkout'
page enter the customer's e-mail address, shipping address, phone number, and select the shipping method! Make sure to confirm the billing address is the same or alternative, then click
'
Proceed
'.
Once you
'
Proceed
'
you will be given a link to send to the customer. Copy and paste this link directly into the chat. This link will send the customer directly to the checkout that you helpfully built for them!
Note: The AAO tool will only work if "One-time payment" is selected. If the customer wants to use Samsung financing or alternate payment methods you will need to give them further instructions to click on the Samsung logo at checkout once they receive the link. Click the cart icon then they will be taken back to checkout with the payment methods below available:
Samsung Financing (New/Existing) Accounts

Amazon Pay

Google Pay

Paypal

Carrier Financing or Affirm Financing is not available to be used with AAO.
2. Keep up with the offers!
A large part of being a top performing expert is keeping up with Samsung's current offers, and coupons codes available for the customers! Offers and coupons can be given to customers at anytime, we encourage you to use them as much as possible. Experts that give coupons to customers have a 20.8% higher conversation rate over experts that choose not to use this tactic! Who doesn't love a good deal? Keeping up with the latest offers is in the best interest of you as an expert and the visitor.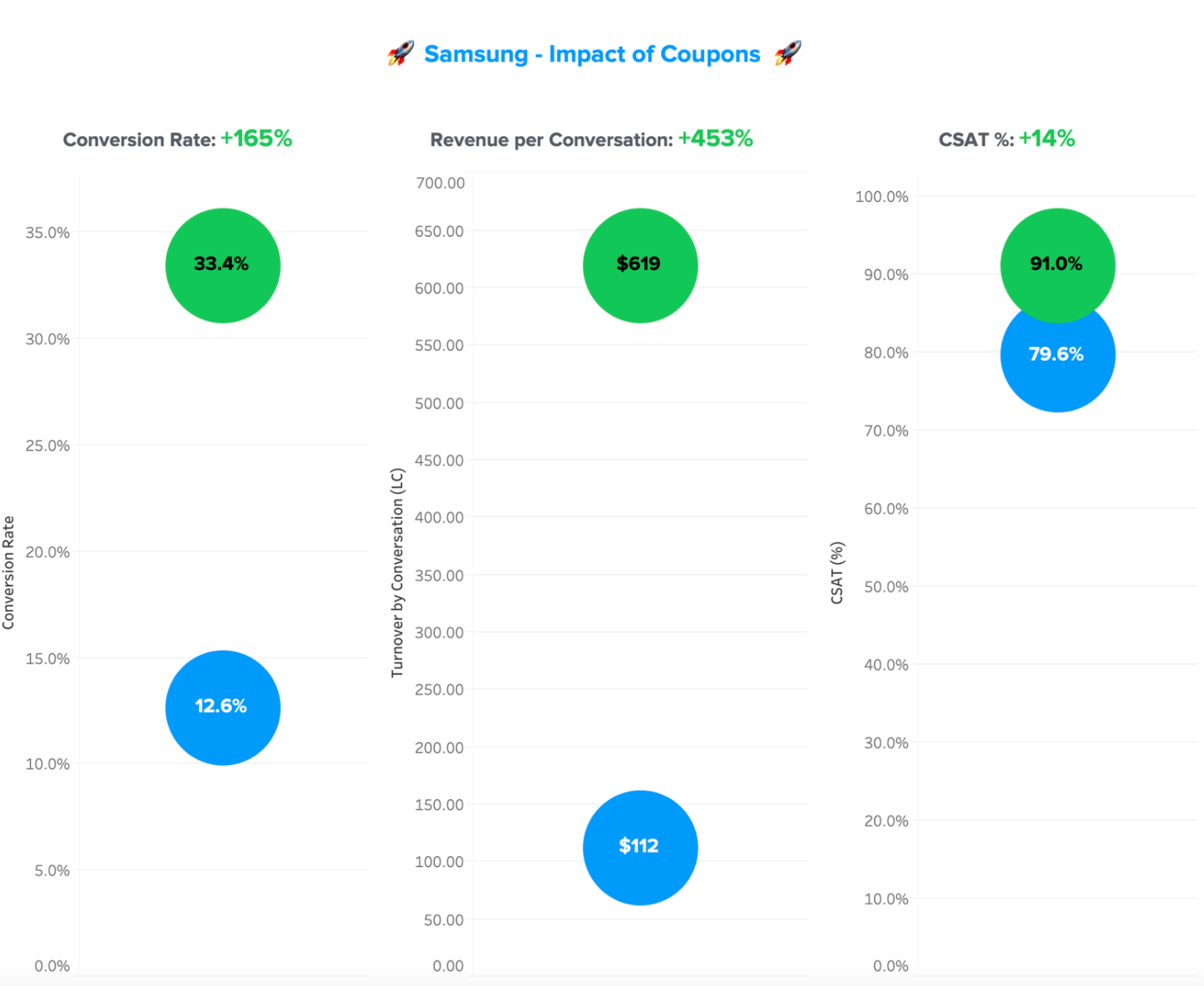 2.1 Survival Kit for offers & coupons
Familiarize yourself with the available coupon codes and the requirements that obtain to each one. Depending on whether there is a form or not you will have to request the code; others will be given in the instructions. Simply input your email and click the
'
Request
codes
' button to request individual codes. Now, go check your email! You should receive a stack of Samsung codes within five minutes. If you receive a blank email this is due to be out of that specific code.
*Please note to only request the codes once you received the codes via!
Another great way to keep up with offers is checking out
Samsung Current Offers
which is updated all the time! By keeping up with the offers you may better assist customers in products they are looking for.
When to use coupon codes & offers?
If the customer is willing to purchase the product. We can always offer a promo code to maximize their savings, cause who does not like to save money?

When the customer is proactively asking for a coupon.

If a customer is reluctant on a purchase we can offer the promo code to encourage buying the product.

When a product is too expensive for a customers and there is a current offer going on!

When items are out of stock, drive interest in a similar product by using the offer/coupon code on the other product.

Anytime there are current coupons for a certain product, it should always be offered to the customers.
3. Be Reactive!
No one likes to wait in life, and at times the customers on the site might be the same. Being as reactive as possible to the best of your abilities will ensure a smooth less chatting experience for everybody! It will also increase your chances of a sale. It is proven that experts that respond between 0-30 seconds after receiving the chat have a significant higher conversation rate. By not responding within a minute experts lose out on big sales!
3.1 Survival Kit for being reactive
Reactivity is
KEY
for a high conversation rate and CSAT score for our experts. What are the best practices so you can achieve being highly reactive within chats?
Canned answers: Have canned answers ready, so you can answer your visitors as soon as they connect with you. For more information regarding canned answers check this out: Canned Answers
Turn on your notifications

: Turn on your notification for ibbü on your phone, that way you can answer to visitors when they send messages.

Be realistic:

Be realistic about how many chats you are able to handle! On the mobile app you are able to change your

concurrency

(amount

of conversations handled), therefore we rather you handle two chats perfectly than four poorly!
Note: If you are not available to chat make sure you are set as 'unavailable' so you do not receive any further chats!

4. Don't forget the basics!
Remembering what you learned from day 1 as an expert is key for being successful during your chatting journey and especially during launches! The basics will help make sales, and the overall increase the satisfaction rate you receive from the customer. Professionalism, courtesy, and patients go along way while chatting with visitors.
4.1 Back to the basics survival kit
Always remember when handling a chat, remain friendly as a happy customer is more likely to make a purchase! Follow these
best chatting practices:
Always stay professional and courtesy

by always greeting/wishing the customer farewell with a

'Hello',

'Thank

You', or

'Bye'.

Customers will appreciate this! Chat to customers the way we hope you would like to be chatted. We recommend to always remain professional even if the visitor is getting frustrated, angry, vulgar, etc.

Let the guests know what you are doing

is an important basic step for a seamless chatting experience! Sometimes you may not be able to handle the chat, or do not know the answer to the question. Let the customer know that you are searching for the answer. If you are still unable to help then transfer the customer to another available expert

(*Remember

to always let another expert know you are transferring a chat to them). This ensures the customer is not left in the dark!

Close a conversation

when the customer has no further questions/needs. Always ask the visitor if they have any other further questions

. If they stop answering, wait a minute before asking again, and then another minute before letting them know that you will be closing the conversation completely. Make sure to tag the conversation for the record!
For further material regarding best practices, as well as tips & tricks bringing you as an expert back to the basics:
ibbü chat best practices
5. Snoozing Conversations
While chatting customers may leave the site or simply not reply right away. But, do not be so quick to close the conversation! You may loose out on sales if you do so. Snoozing a conversation can be beneficial to you because it allows you to put aside idle conversations, which allow you to be
more available
and therefore help
to engage and advise more visitors
on the site. When snoozing you are putting a conversation on hold, the customer will receive an email notification with the link to get back to the chat!
5.1 Snoozing Conversations Survival Kit
There is
snoozing etiquette
during chats, follow these steps to properly handle the feature during low, medium, or high engagement between you and the visitor:
Wait around 2-3 minutes before asking whether the customer is still with you

If still no response after another 3-4 minutes,

do not snooze

but send a farewell message and

close the conversation

.
Medium

visitor

Engagement:
Wait around 2-3 minutes before asking whether the customer is still with you

If still no response after another 3-4 minutes, let the customer know that you are putting the conversation on hold and they can come back at anytime. Then, proceed to snooze for no more than 1hr (be available at the scheduled snooze time).

Once the chat reappears back on your desk send a follow up message and if there is still no response, send a farewell message and close the conversation.
Wait around 2-3 minutes before asking whether the customer is still with you

If still no response after another 3-4 minutes, let the customer know that you are putting the conversation on hold and they can come back at anytime. Then, proceed to snooze for no more than 2hr

Plan ahead to make sure you will, in fact, come back to this conversation in 2hr.
Examples of canned answers depending on if the customer is still online or offline:
Online But Not Replying
'I see you need a little more time, so feel free to come back if you have any more questions and I will be waiting here to assist you!'
'Looks like I've lost you! Not to worry though, if you come back with any more questions I will be here to answer them!'
How do you snooze a conversation?

If you have decided to snooze a conversation first click on the
'
snooze
'
button. It is then possible to snooze a conversation for a certain length
(
3
hours, 24 hours, or custom
). Do not forget to come back to the chat once that

time is up.
*Note: When the conversation is assigned to you and is not handled within 24 hours, the conversation will be re-assigned to another agent in the same group.
Remember if the conversation is complete to not snooze it, make sure to send a farewell message and close the conversation! It is important that you also answer all questions fully before snoozing and never snooze if the customer is active and responding!
For more information and content regarding how to snooze a conversation check this out:
The
'Snooze'
Button
Utilize these five methods during launch day to maximize your performance. Happy launch day! 🚀