Unleash Your Expertise on Launch Day: Being part of an ibbü product launch can be a whirlwind, but we've got your back! With these five vital tips, you'll be well-prepared to harness the excitement and showcase your expertise like never before on the big day. 👇
Choosing AAO as your go-to tool can significantly enhance customer satisfaction and boost deal closures through chat!
Our experts have witnessed remarkable success using Agent Assisted Ordering, with an average conversion rate of 52.2%, compared to a mere 16.3% for those who haven't adopted the tool. By leveraging AAO, you could potentially increase your revenue per conversation by up to $400 or even more when compared to those who opt not to use it. Embracing this solution will inevitably lead to a substantial rise in your CSAT percentage – an outcome everyone can appreciate!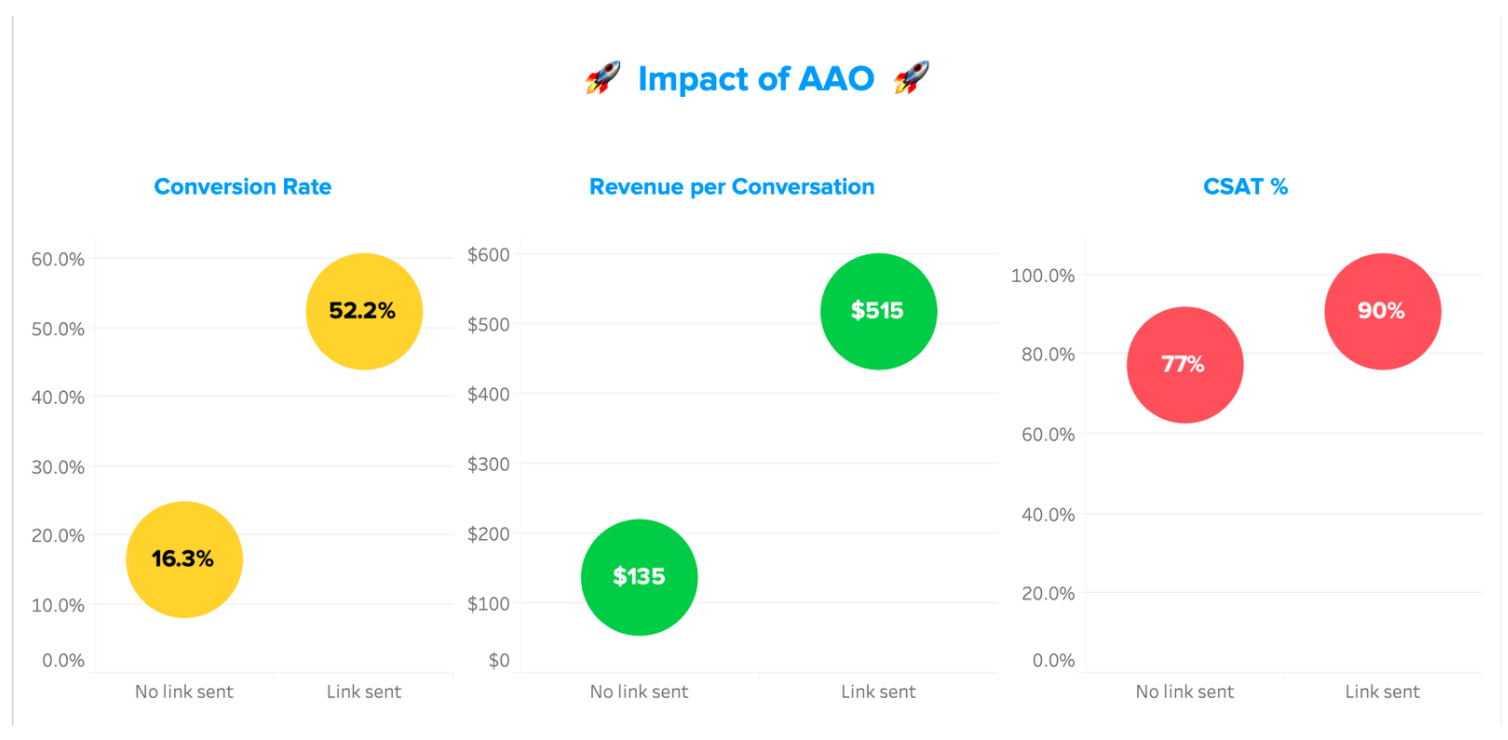 Stay Updated on the Latest Deals!
Remaining a top-performing expert involves staying informed about the latest deals and coupon codes offered by Samsung for its customers. Utilizing these offers and coupons can greatly benefit your interactions. Experts who provide coupons to customers experience a 20.8% higher conversion rate compared to those who don't use this strategy. Taking advantage of these promotions not only benefits you as an expert but also enhances the visitor's experience.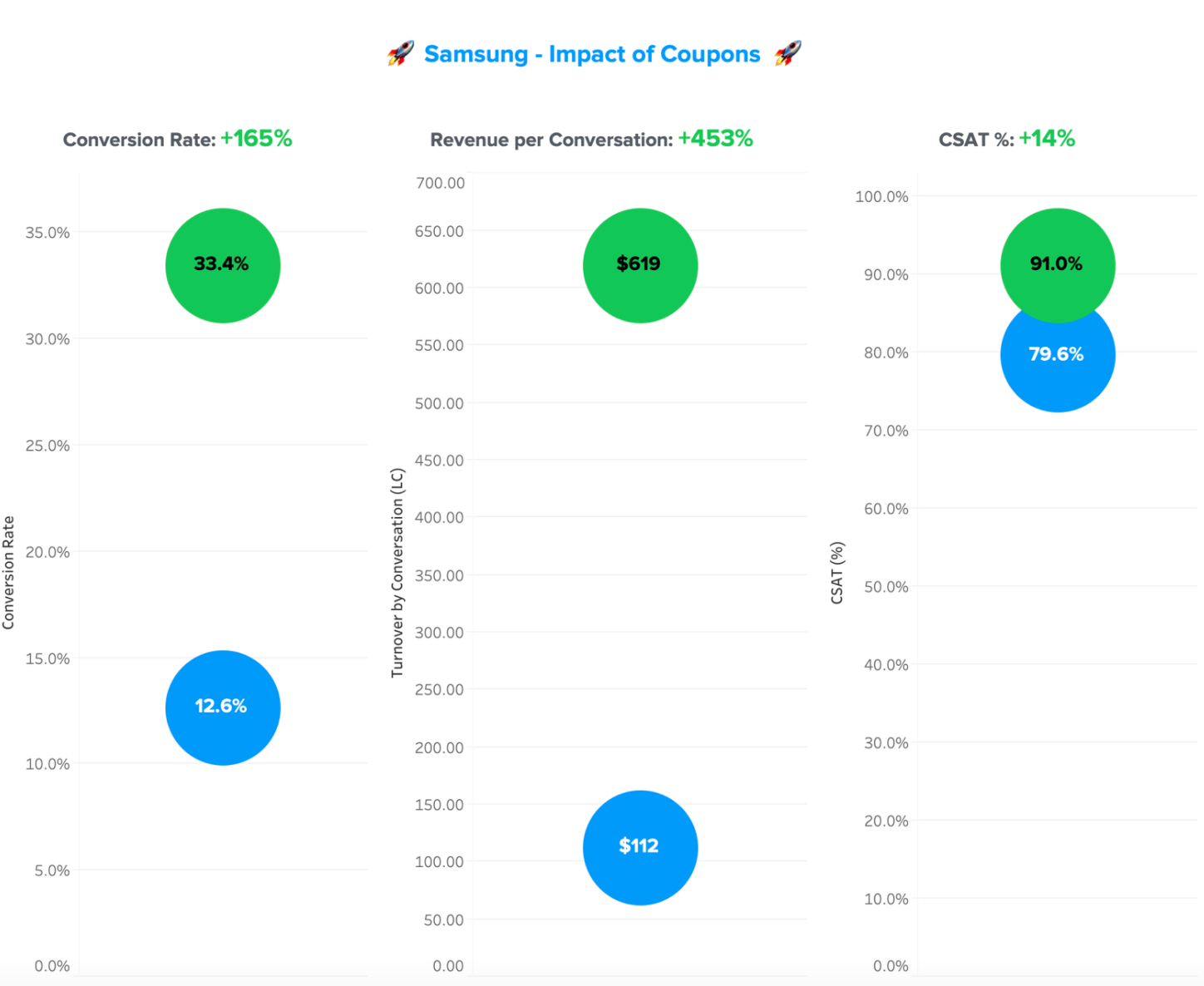 How and when to use the exclusive promo codes?
Experts are to use their best judgment on when to provide the discount to solidify the customer's purchase decision. Offering at certain times could be more beneficial than others.
Discounts are not always needed, they are just another tool to close sales with. Sometimes it's not a question of when we should send the discount, but rather if we should send it.
Game Time Decision. The second we promise a discount to a customer, they make their decision to purchase.
Upselling or cross-selling to a more premium model or bundle. Sometimes customers want additional features but don't always want to pay for them. A discount for upgrading often means a difference in their purchase decision.

Show empathy for a situation.

Should a customer have difficulty placing their order, send out the discount to

provide next-level customer service and secure future business.
Optimize Responsiveness!
In a fast-paced world, waiting is not an option, and the same goes for your brand's site customers. Optimizing your responsiveness will create a smoother and more satisfying chat experience for all users. Additionally, it will enhance your chances of closing a deal. Research indicates that experts responding within 0-30 seconds after receiving a chat achieve substantially higher conversion rates. To avoid missing out on lucrative sales, aim to be quick in your responses!

Enhancing Reactivity for Improved Conversation Rate and CSAT Score.
Multitasking Skills: develop effective multitasking skills so you are able to handle multiple chats simultaneously without compromising on quality.
Note: If you are not available to chat make sure you are set as 'unavailable' so you do not receive any further chats!

Mastering the Fundamentals: Your Path to Chat Success
Revisiting the core principles is crucial for achieving success in your chat interactions. Whether you're a seasoned expert or just starting, these fundamentals will ensure positive outcomes and customer satisfaction:
Cultivate a Welcoming Atmosphere: Embrace the power of friendliness. 👋 A cheerful demeanor and warm greetings can greatly influence a customer's purchasing decision. Always remember to start and end your chats with a friendly "Hello," "Thank You," or "Goodbye.
Uphold Professionalism and Courtesy: No matter the situation, maintain your professionalism. Treat customers with respect and courtesy, even if they express frustration or annoyance. A composed and understanding response can de-escalate tense situations.
Transparency in Actions: Keep customers informed about your actions during the chat. Let them know when you're researching an answer or seeking assistance from another expert. If necessary, transfer the chat with proper communication to avoid leaving customers hanging.
Efficiently Conclude Chats: Efficiently close conversations when customers have no further inquiries or needs. Always ask if there's anything else they require before ending the chat. Wait for a moment before checking again and then, if there are no more questions, gracefully conclude the conversation. Don't forget to tag the conversation for future reference!
For more insights on best practices, as well as expert tips and tricks for mastering the fundamentals, refer to the
In the process of chatting with customers, you might encounter instances where they leave the site or don't respond immediately. However, it's not always best to end the conversation quickly. Opting to snooze a chat can prove advantageous, allowing you to prioritize other engagements without losing potential sales.
Examples of canned answers depending on if the customer is still online or offline:

On this launch day, make the most of these five methods to optimize your performance. Best wishes for a successful launch! 🚀